The following is a list of quotations from Zarya:
Hero Interactions (start of game)
Edit
Abathur:
- "Oh, the weird slug man is on my team"
Sonya:
- "You look like you could be some competition, wonderful!"
- "Ha!. I like this one"
Johanna:
- "I love your armor!"
-"No, none"
Lunara:
- "Does it hurt being part-deer?"
- "You are the meanest deer-lady i have ever met!"
Muradin:
- "Finally!. Someone with real muscle!"
Overwatch characters:
- "Good to see you on my side, This should be easy!"
-"We have combat experience that can never be faked"
Tracer
- "Tracer, what is an Overwatch agent doing here?"
- "Indeed, let us show them how we do things"
Murky
- "Ha!. A fishman!. I love it"
- "I do not know how to respond to that, no?....yes?...maybe?"
Tychus
- "Nice mini-gun. What do you say you let me give it a try sometime?"
Heroes in robotic skins
- "I have destroyed more of your kind than i can count"
Hero kills
Edit
Starcraft character:
- "What is this, science fiction??"
Overwatch characters:
- "Who needs Overwatch?. We will protect ourselves"
Anubarak:
- "Almost as big as Siberian beetles!....eh almost"
Tracer:
- "Not fast enough, Tracer"
Undead characters (Xul, Sylvanas, Leoric, Stitches)
- " It's like i'm in a Zombie movie!" (laughs)
"Excellent." (Upon purchase)
"Yes?"
"What do you need?"
"Might makes right."
Humorous
Edit
These lines can be heard if Zarya is clicked repeatedly. References made within the lines are linked to the point of reference:
"What? What are you doing? Stop poking me. Why do they even allow this?"
"Strength is a gift to be shared. The strong must protect the weak, and together, we will do more than just survive. We will be victorious."
"I have sacrificed a great many things to protect the people I love. And I will do so again without hesitation."
"Have you ever noticed you can't jump in the Nexus? That's odd, right? Gravity must be very strong here."
"Someday I'd love to be in a second-person shooter. You fire your particle grenade at the bad guy, you see them explode, you flex."
"I am the strongest woman in the world. Well, my world at least. This one has some competition."
"Dochdenada."
"In Mother Russia, this joke is tired of you."
"Who watches over Overwatch? Several regulations boards."
"Not everything is a silly joke. Deal with it."
"With guns like this (kissing sound), every fight is a gun fight."
"There is no secret to arm wrestling. The world meets nobody halfway. If you want it, you have to take it."
"Acknowledged."
"да."
"Looking forward to it."
"Time to go."
"Move out."
"так точно."
"Alert and able."
"Hm, why not."
Attacking
Edit
"I was born in battle!"
"Show me what you've got!"
"Handle this!"
"I'm on the attack!"
"I will break you."
"Here we go!"
"Take the pain!"
Basic Abilities
Edit
Personal Barrier
"Give me your best shot!"
"Hit me harder!"
Shield Ally
"Barrier's on you! Go!"
"You're covered!"
"Get in there!"
"Go!"
At maximum energy
Heroic Abilities
Edit
Graviton Surge
"Огонь по готовности!"
"Fire at will!"
Expulsion Zone
"прочь с дороги!"
"Out of the way!"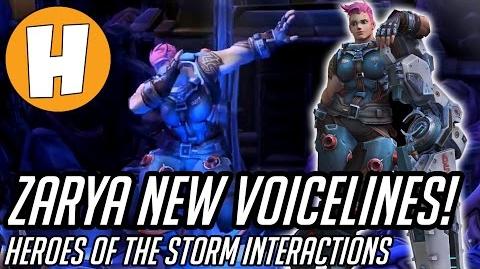 Ad blocker interference detected!
Wikia is a free-to-use site that makes money from advertising. We have a modified experience for viewers using ad blockers

Wikia is not accessible if you've made further modifications. Remove the custom ad blocker rule(s) and the page will load as expected.