Wisp
(E)
Mana: 30
Cooldown: 30 seconds
Spawn a Wisp to scout an area. Can be redirected once active. Lasts 45 seconds.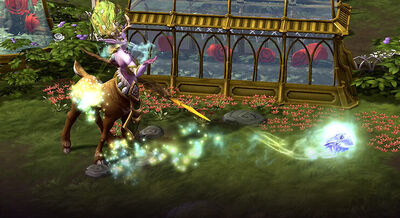 Patch changes
Edit
 (Patch September 13, 2016) Note: Will no longer receive the "Stuck" notification when a Wisp is stuck by Tracer's Pulse Bomb.
 (Patch July 12, 2016) Note: Forts and Keeps will now properly fire on a Wisp that it is just inside attack range.
 (Patch February 2, 2016) Note: Mana cost reduced from 50 to 30; Cooldown decreased from 45 to 30 seconds, but its duration has not been changed.
Ad blocker interference detected!
Wikia is a free-to-use site that makes money from advertising. We have a modified experience for viewers using ad blockers

Wikia is not accessible if you've made further modifications. Remove the custom ad blocker rule(s) and the page will load as expected.