Vault
(E)
Mana: 50
Cooldown: 10 seconds
Dash to the target area. Your next Basic Attack within 2 seconds deals 6% increased damage per stack of Hatred.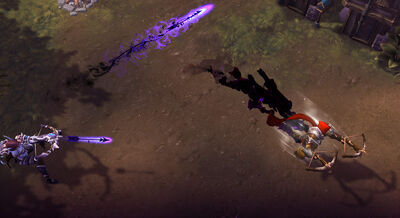 Patch changes
Edit
 (Patch September 26, 2017) Note: Caltrops dropped by the Vault Talent will no longer display Health bars, and are no longer selectable.
 (Patch September 27, 2016) Note: Damage bonus per stack of Hatred increased from 5 to 6%.
 (Patch September 13, 2016) Note: Mana cost reduced from 75 to 50; New Functionality: Casting Vault causes your next Basic Attack to deal 50% additional damage.