This is from the
Warcraft
universe.

(8/10)
(5/10)

(7/10)

(6/10)

Thrall is one of the player characters in Heroes of the Storm.[1]
Background

Edit
As a child, Thrall served the cruel Aedelas Blackmoore as a slave. After gaining his freedom, he guided the liberated orcs to a land of their own and worked to recover their ancient traditions. Now and forever, he is Warchief of the Horde.
Abilities

Edit
Heroic Abilities

Edit
Tier 1, Hero Level 1
---
Tier 2, Hero Level 4
---
Tier 3, Hero Level 7
---
Tier 4, Hero Level 10
---
Tier 5, Hero Level 13
---
Tier 6, Hero Level 16
---
Tier 7, Hero Level 20
Battleground Tips

Edit
"Feral Spirit" [W] does not root minions, only enemy Heroes. Use the ability to help push waves of minions while simultaneously harassing your enemies.
"Windfury" [E] can provide up to three stacks of Frostwolf Resilience when all the auto attacks are used in a timely manner.
"Chain Lightning" [Q] will bounce to three enemies. If there are no secondary enemies for the lightning to bounce to, it will only hit the primary target once.
Warchief of the Horde
Hellhammer Thrall
Go'el, the new Warlord of the Ashwolf clan, lifted the shattered Doomhammer from the Blackrock chieftain's corpse. Of his father's betrayers, only Gul'dan remained.
$7.49
Earthbreaker Thrall
The weight of the world hangs upon the Aspect of Earth, a burden no mortal can bear. As Thrall embraced its power, he was consumed by living rock and forever changed.
$7.49
Master Thrall
The vestments of a shaman should be as simple as the elements themselves. Although, there's no rule about what you wear beneath them.
Hero level 10, 10,000 gold
See also: Thrall quotations
Thrall is a character from the Warcraft series. His appearance in Heroes of the Storm corresponds to his time as Warchief.
Humorous Quotes
"Hmm? Oh that's right, we're doing the joke thing. Sorry, it's been awhile."
"Ahh, I miss Real-Time Strategy..."
"The isometric perspective, the grand large-scale battles..."
"Can't say I miss this poking though..."
"You bring the Warchief, I bring the war."
//[video of full list in progress]//
Development

Edit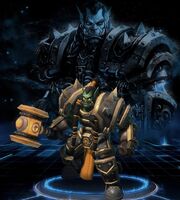 Thrall was originally a support-type hero, possessing abilities that allow him to heal allies and debuff enemies.[2] He previously possessed a bloodlust ability[3] as well as lightning shield.[4] His ability kit was transferred to Rehgar as the developers wanted Thrall to take a more offensive role.[5]
Cosplay reference kit

Edit
Default
Hellhammer
Patch changes

Edit
 (Patch March 1, 2016) Note: Thrall's prices have been reduced to $8.49 USD and 7,000 Gold.
 (Patch February 10, 2016) Note: Basic Attack damage reduced from 173 (+4% per level) to 165 (+4% per level).
 (Patch August 18, 2015) Note: Thrall's Basic Attacks have received improvements in responsiveness, especially when stutter-stepping; Thrall's first Basic Attack after Windfury ends will no longer have an abnormally long weapon period.
References

Edit
External Links

Edit
Ad blocker interference detected!
Wikia is a free-to-use site that makes money from advertising. We have a modified experience for viewers using ad blockers

Wikia is not accessible if you've made further modifications. Remove the custom ad blocker rule(s) and the page will load as expected.