This is from the
StarCraft
universe.
(6/10)

(7/10)

(7/10)

(4/10)

Tassadar, Savior of the Templar is a support hero from the StarCraft setting. An executor without equal, Tassadar has fought tirelessly to purify the Koprulu sector of the zerg infestation. Only now, after learning to wield the shadowy powers of the Void, is Tassadar finally ready to face the Overmind and its all-consuming Swarm.
Abilities
Edit
Heroic Abilities
Edit
Tier 1, Hero Level 1
---
Tier 2, Hero Level 4
---
Tier 3, Hero Level 7
---
Tier 4, Hero Level 10
---
Tier 5, Hero Level 13
---
Tier 6, Hero Level 16
---
Tier 7, Hero Level 20
Savior of the Templar
Crypt King
$9.99
Mecha
Although they are unwilling to admit it, Tassadar Prime and the Zealobots are losing the civil war against the Judicons. Little do they know, deep within the core of Aiurtron, an infestation is growing...
$14.99 - Comes with mount, themed abilities
Master
Hero level 10, 10,000 gold
See also: Tassadar quotations
Tassadar's mecha skin also doubles as a mount. Here, he transforms into a jetfighter.[1]
Development
Edit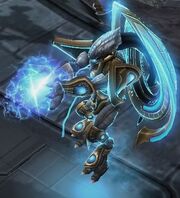 Tassadar was concieved within the first two years of the game's development,[2] and appeared in early builds.[3] He started off as a sentry, but was eventually made a fully fledged hero. A crest was added to his back to make him look more epic.[4] The crest bears resemblance to the one worn by Artanis in Legacy of the Void.
Patch changes
Edit
References
Edit
External Links
Edit
Ad blocker interference detected!
Wikia is a free-to-use site that makes money from advertising. We have a modified experience for viewers using ad blockers

Wikia is not accessible if you've made further modifications. Remove the custom ad blocker rule(s) and the page will load as expected.