This is from the
Warcraft
universe.
(6/10)

(7/10)

(7/10)

(5/10)

Sylvanas is a hero for Heroes of the Storm. She has a stoic, but arrogant personality.[1] As Ranger-General of Silvermoon, Sylvanas is a leader of her people and a powerful force for good against the undead scourge that seek to overthrow the elven race. Her deadly accuracy is legend across Azeroth.[2]
Abilities
Edit
Sylvanas specializes in DPS and siege damage.[3]
Heroic Abilities
Edit
Tier 1, Hero Level 1
---
Tier 2, Hero Level 4
---
Tier 3, Hero Level 7
---
Tier 4, Hero Level 10
---
Tier 5, Hero Level 13
---
Tier 6, Hero Level 16
---
Tier 7, Hero Level 20
The Banshee Queen
Ranger General Sylvanas
$7.49
Master Skin
Hero level 10, 10,000 gold
Development
Edit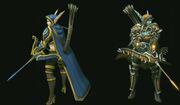 Sylvanas was conceived within the first two years of the game's development.[4] She appeared as a hero in early builds. She had powerful ranged attacks and was deadly, easy to kill. She benefited from dexterity items.[2] She was a powerful mid to late game hero.[1]
As with the rest of the characters at the time, Sylvanas had a "good" and "evil" form—in her case, corresponding to her living and undead forms respectively.[1]
Her abilities and stats were as follows:
Stats

Life: 1
Attack: 5.25
Abilities: 6
Speed: 3.75

Abilities

Trueshot Aura
Wild Arrow
Frost Arrow
Silence
Freezing Trap
Multishot[2]
Sylvanas has proven difficult to balance in regards to battleground design, given her ability to disable towers.[5]
Patch changes
Edit
References
Edit
External links
Edit
Ad blocker interference detected!
Wikia is a free-to-use site that makes money from advertising. We have a modified experience for viewers using ad blockers

Wikia is not accessible if you've made further modifications. Remove the custom ad blocker rule(s) and the page will load as expected.