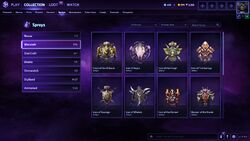 Sprays are a cosmetic feature in Heroes of the Storm that allow players' Heroes to make their mark on the field of battle by dropping unique icons and tags on the terrain. They are obtained via crafting through shards, or by opening Loot Chests.
One Spray per Hero can exist on the terrain at any given time, and will last approximately 8 seconds.
Default hotkey: T
Shortcut wheel: X, then left direction
The basic Nexus spray is available for free.
The sprays from the different Blizzard Entertainment franchises and the "Stylized" sprays are 40 each.
The pixelated animated sprays are 100 each.
All event sprays cost

150 unless otherwise noted.
Gingerbread
Snow Globes
The following sprays cost

60.
Nostalgic

This is from the
Warcraft
universe.

This is from the
StarCraft
universe.

This is from the
Diablo
universe.

This is from the
Overwatch
universe.
Stylized
Edit
"Graffiti theme"
Edit
Pachimari
Edit
"Sea theme"
Edit
Animated
Edit
Promotional
Edit
The Stylized spray section contains various references to old animated series and movies:
Patch changes
Edit
Ad blocker interference detected!
Wikia is a free-to-use site that makes money from advertising. We have a modified experience for viewers using ad blockers

Wikia is not accessible if you've made further modifications. Remove the custom ad blocker rule(s) and the page will load as expected.