Silver City was originally a Heroes Brawl that ran from December 30, 2016 to January 6, 2017. It was designed to commemorate the 20th anniversary of the Diablo series and was based on the Battlefield of Eternity/Infernal Shrines tilesets.
The brawl is single-laned, with heroes randomly selected. The first team to destroy the enemy's core wins. Originally, completing three Silver City brawls granted players 1000 gold and a new portrait. Now the rewards are a Loot Chest
Queue up and receive a random Hero (shuffle pick) to battle it out in Silver City!
Standard play - no talent or level restrictions.
The first team to destroy the enemy Core wins
Complete two matches to earn a Loot Chest.
Previous rewards
Edit
Completing three matches earned 1,000 Gold and the following portrait: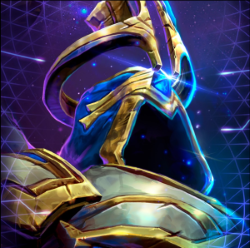 The Silver City is a location in the Diablo universe.
Patch changes
Edit
Ad blocker interference detected!
Wikia is a free-to-use site that makes money from advertising. We have a modified experience for viewers using ad blockers

Wikia is not accessible if you've made further modifications. Remove the custom ad blocker rule(s) and the page will load as expected.