Shadowstalk
[Heroic Ability]
Mana: 75
Cooldown: 60 seconds
Stealth all allied Heroes and heal them for 250 (+4% per level) over 8 seconds. At the conclusion of Shadowstalk, they receive a burst of 99 (+4% per level) healing.
Tier 4 (Hero Level 10)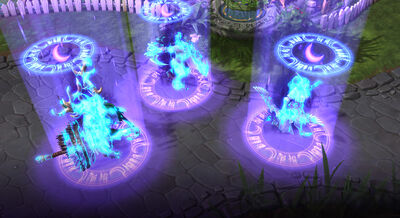 Patch changes

Edit
 (Patch January 20, 2016) Note: Cooldown increased from 50 to 60 seconds; Periodic Healing decreased from 16 to 15 Health per tick; Final burst Heal amount decreased from 100 to 95 Health.
 (Patch November 17, 2015) Note: Heal over time and damage over time previews for Tyrande's Shadowstalk and Kael'thas' Living Bomb will now more accurately reflect the burst Healing and burst damage amounts at the end of each Ability's effects.
 (Patch October 6, 2015) Note: No longer reveals enemies. Instead, allied Heroes are now healed over 8 seconds, and then receive a large burst of healing when Shadowstalk expires.
Ad blocker interference detected!
Wikia is a free-to-use site that makes money from advertising. We have a modified experience for viewers using ad blockers

Wikia is not accessible if you've made further modifications. Remove the custom ad blocker rule(s) and the page will load as expected.