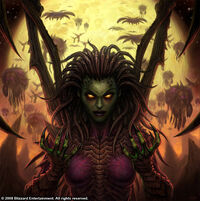 An alternate version of Kerrigan's StarCraft II incarnation is available as a hero in Heroes of the Storm.[1] Her ghost version may also appear as a playable hero.
Sarah Louise[2][3] Kerrigan was a psychic terran female. She began her career as a Confederate ghost and later became the second-in-command of the Sons of Korhal.[4] Following Arcturus Mengsk's betrayal, she was captured and infested by the Zerg Swarm, ultimately becoming the self-proclaimed Queen of Blades[5] and leader of the Swarm.
At the Dominion Ghost Academy, ghosts in training are told the Confederacy allowed Kerrigan to "defect" to the zerg.[6]
References
Edit