Sand Blast
(Q)
[Skillshot]
Mana: 20
Cooldown: 2.5 seconds
After 1 second, fire a missile that deals 300 (+2% per level) damage to the first enemy Hero hit.


Quest: Hit 60 Heroes with Sand Blast. Consecutive hits without missing count as hitting 2 Heroes.


Reward: Each Hero hit increases Sand Blast's damage by 5.


Reward: After hitting 60 Heroes, casting Sand Blast leaves an Echo behind. The next time Sand Blast is cast, the Echo also casts an untalented Sand Blast that deals -59% damage.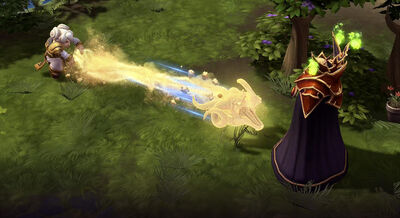 Patch changes
Edit