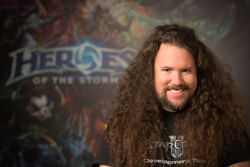 Samwise Didier is the art director of Heroes of the Storm[1] and a member of the Elite Tauren Chieftain band.[2] He has worked with Blizzard Entertainment since 1991,[3] beginning as an artist. He has gradually assumed more responsibility, leading up to his current position. He has worked on games from every franchise ever released by Blizzard Entertainment, and has played a crucial role in shaping the company's distinctive visual style over the years. His skills are self-taught.
As a senior art director for Blizzard Entertainment, Didier is responsible for maintaining the look and feel of Heroes of the Storm, ranging from icons for abilities and talents to character and map designs. In addition, he oversees the artwork done for third-party licensed products to ensure a high level of creativity and quality.[4]
Heroes of the Storm
Edit
Lost Vikings
Edit
Didier doesn't have a main hero per se, but gravitates towards warriors, assassins, and especially specialists. Some of his favorite characters are Muradin, Stitches, and ETC.[5]
External Links
Edit
References
Edit