Plague of Toads
(E)
[Cone]
Mana: 30
Cooldown: 8 seconds
Create a wave of 3 Toads that explode on contact, dealing 126 (+4% per level) damage over 6 seconds. This effect stacks.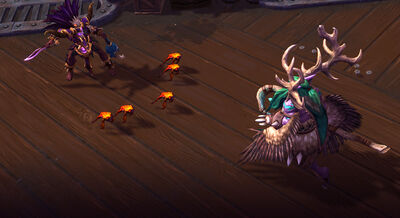 Patch changes

Edit
 (Patch March 14, 2017) Note: The targeting indicator for Plague of Toads will now visually increase in size after learning Thing of the Deep.
 (Patch February 14, 2017) Note: The targeting indicator now more accurately reflects the Toads' travel path.
 (Patch September 27, 2016) Note: Number of Toads spawned reduced from 5 to 3; Now has 2 charges; Damage changed from 87 damage on impact to 126 over 6 seconds; Multiple instances of this damage effect can affect the same enemy; Cooldown reduced from 10 to 8 seconds; Mana cost reduced from 55 to 30.
Ad blocker interference detected!
Wikia is a free-to-use site that makes money from advertising. We have a modified experience for viewers using ad blockers

Wikia is not accessible if you've made further modifications. Remove the custom ad blocker rule(s) and the page will load as expected.