"There are few things better than a good Murky. There are few things worse than a bad one. Here's to you, good Murky players. We love you and you can be on our team any time."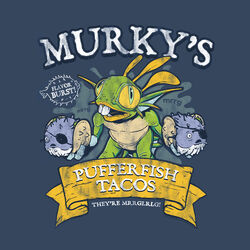 Murky's Pufferfish Tacos is a taco joint owned by Murky. In Murky's words, they're "mrrglrlg."[1]
Quotes and Facts
Edit
The joint is referenced in a J!NX Heroes of the Storm-themed T-shirt for Murky.
References
Edit
Ad blocker interference detected!
Wikia is a free-to-use site that makes money from advertising. We have a modified experience for viewers using ad blockers

Wikia is not accessible if you've made further modifications. Remove the custom ad blocker rule(s) and the page will load as expected.