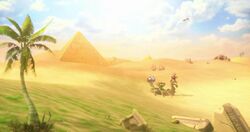 Luxoria is one of the realms of the Nexus.
Background

Luxoria is a realm of vast desert sands[1] which are ever shifting.[2] It features long forgotten tombs.[3] In its distant past the realm was ruled by the Scarab Swarm.[2] It is/was ruled by Pharoah Ta-sadar, who willingly let Luxoria be consumed by the Nexus as an alternative to the Scorpid Swarm of the Darkworld.[4] The dead have a habit of returning in this realm.[5] Genies exist within this realm; beings of immense magical power who usually guide and influence mortals by appearing in their dreams.[6]
Quotes and Facts

Edit
Luxoria appears to be based on Ancient Egypt.
References
Edit
↑ Sky Temple, Blizzard Entertainment. Accessed on 2015-03-18
↑ 2.0 2.1 Heroes of the Storm, Desert Queen Zagara Skin
↑ Tomb of the Spider Queen, Blizzard Entertainment. Accessed on 2015-04-07
↑ Heroes of the Storm, Pharoah Tassadar Skin
Ad blocker interference detected!
Wikia is a free-to-use site that makes money from advertising. We have a modified experience for viewers using ad blockers

Wikia is not accessible if you've made further modifications. Remove the custom ad blocker rule(s) and the page will load as expected.