"At the start of each year, denizens of Azeroth take time to cherish the wisdom of their elders, and remember a great triumph over an ancient evil. Those who now reside within the Nexus have brought these traditions along, and you can help ring in the new year by joining in our brand-new Lunar Festival event."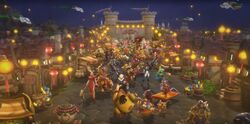 Dates: January 24th - February 14th
The Lunar Festival is an event for Heroes of the Storm, taken from the holiday of the same name from the Warcraft universe.
Background
Edit
The Lunar Festival has its origins in Azeroth. It was brought to the Nexus by those who herald from that world. During the event, family is visited, and elders are revered. Houses are cleaned of the dirt and grime of the past year. People try their best to pay outstanding debts, and old grudges are settled in order to start the year with a new slate.[1]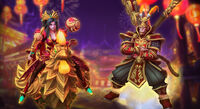 Each day during Lunar Festival, players will receive a new quest to complete the Rooster Race. If any players on a team have not yet finished that day's quest, the Lunar Rooster will appear near the Core before the match begins. Many festive items will also be scattered around a team's starting area. Work together with allies to collect the required items and return them to the Rooster to advance its position. Return four items before time runs out to help the Rooster cross the finish line!
Players receive a Movement Speed bonus while carrying a Lunar Festival item.
Daily Quest: Complete the Rooster Race once.
Event Quest: Complete the Rooster Race 25 times during the 2017 Lunar Festival event.
A few heroes are part of the 2017 Lunar Festival Bundle, which contains Monkey King Samuro, Lunar Li-Ming, and the new Nimbus Cloud Mount. A Golden Rooster Mount has been added to the in-game shop, and players can add it to their collection for 10,000 gold.
While the event runs, there is a special quest to complete 25 matches (Versus AI, Quick Match, or Ranked). Completing this event will give players a monkey elder portrait.
In addition, there is a daily quest involving the monkey elder. There is a 50% chance for him to spawn at the beginning of a game whenever someone on the player's team has yet to complete the quest that day.
A number of skins and mounts were released based on the event.[2]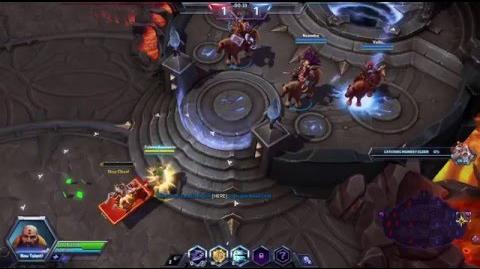 Patch changes
Edit
References
Edit
Ad blocker interference detected!
Wikia is a free-to-use site that makes money from advertising. We have a modified experience for viewers using ad blockers

Wikia is not accessible if you've made further modifications. Remove the custom ad blocker rule(s) and the page will load as expected.