This has been removed from Heroes of the Storm.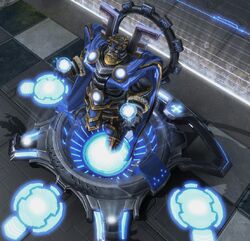 In early builds of Heroes of the Storm, Lord Order was a galactic overlord[1] and an individual from the cyber world of the game's setting, seemingly aligned with the game's blue team.[2]
Lord Order replaced the king tower from earlier builds, as Blizzard felt that he would give the game more personality. His model had sweeping, kingly gestures so as to convey that he's a "badass."[1]
References
Edit
Ad blocker interference detected!
Wikia is a free-to-use site that makes money from advertising. We have a modified experience for viewers using ad blockers

Wikia is not accessible if you've made further modifications. Remove the custom ad blocker rule(s) and the page will load as expected.