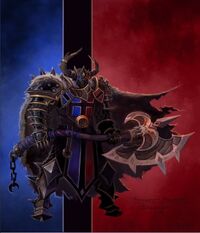 Knights are a type of minion found within mercenary camps.
When fighting these groups solo, a player's best bet is to take out the sorceror first, while doing AOE damage to the rest, then take down the rest of the camp.
Their camps respawn at a rate of 150 seconds.
Background
Edit
Knights exist in many of the realms of the Nexus.They are particuarly prolific in Kings Crest.[1] They partake in the tournaments that occur in the realm.
Knights exist in the Raven Court and Dragon Shire, but are quite different. Knights of Dragon Shire are quite formal, dressed in white plate golding[2] with winged helmets[3] and the emblem of the purple rose on their shoulder. In contrast, the knights of the Raven Court are "black knights" and are "barely sirly," addressing individuals informally.[2] These knights possess horned helmets, black armor, and glow, with evil enanating from them.[3]
Knights have different appearances depending on the battleground in which they appear.[4] These include the following:
Patch changes
Edit
References
Edit
Ad blocker interference detected!
Wikia is a free-to-use site that makes money from advertising. We have a modified experience for viewers using ad blockers

Wikia is not accessible if you've made further modifications. Remove the custom ad blocker rule(s) and the page will load as expected.