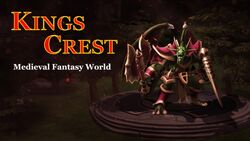 Kings Crest is a location within the Nexus.
Background
Edit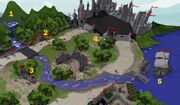 There are no peasants in Kings Crest. It is inhabited by lords and ladies.[1]
Development
Edit
Kings Crest was one of the first concepts Blizzard Entertainment did for the Nexus. It was designed to feel similar, yet different to the Warcraft setting. It features a heavy Medieval theme. With that established, the developers began developing the structures, minions, and mercenaries that would inhabit the area. As Blizzard fleshed the concept out, it was expanded; the docks became Blackheart's Bay[2] and the town became Dragon Shire.[3]
References
Edit
↑ 2014-02-20, Heroes of the Storm Developer Q&A Part 3 (Feb 20, 2014) – Transcript. Blizzplanet, accessed on 2014-06-15
↑ 2013-11-09, Heroes of the Storm Panel Recaps at BlizzCon 2013. Blizzard Entertainment, accessed on 2014-06-16
↑ 2014-03-12, Heroes of the Storm Developer Q&A Part 3 (Feb 20, 2014) – Transcript. Blizzplanet, accessed on 2014-06-18