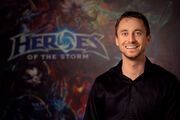 Kent-Erik Hagman is the lead hero designer for Heroes of the Storm,[1] formerly holding the position of game designer. Most of his time is spent on hero design, but he also works on talent trees, and testing and refining older characters.
Hagman joined Blizzard Entertainment in 2011 as an online systems designer on the Battle.net team, working on features for Diablo III and the Battle.net client. When the opportunity arose, he took on the challenge of creating the original tutorial and new player experience for Heroes of the Storm, then transitioning to map and battleground design before shifting his focus full-time to character design.
Kent-Erik is an avid Blizzard gamer who spends many hours ranking up in Hearthstone and racking up Conquests on his Diablo III hardcore characters. He graduated Magna Cum Laude with a Bachelor's degree in Computer Information Sciences and Engineering from the University of Florida.[2]
Quotes and Facts
Edit
His favorite heroes include Murky[3] and Samuro.[4]
References
Edit
Ad blocker interference detected!
Wikia is a free-to-use site that makes money from advertising. We have a modified experience for viewers using ad blockers

Wikia is not accessible if you've made further modifications. Remove the custom ad blocker rule(s) and the page will load as expected.