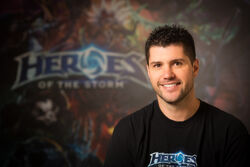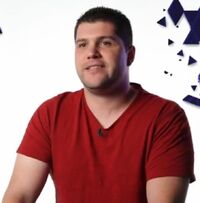 Kaeo Milker is the production director for Heroes of the Storm,[1] and the game's former senior producer.
Milker has played Blizzard games since The Lost Vikings.[2]
He has been with Blizzard itself since around 2002. He began in Quality Assurance for Warcraft III. Later he was a recruiter for the company's World of Warcraft team and the cinematics team. Since c. 2005, he worked almost exclusively with Team 1, which is/was responsible for StarCraft II and Heroes of the Storm.[3]
He likes to play as Kerrigan and Gazlowe.[4]
As a lead game producer for Blizzard Entertainment, Inc., Kaeo Milker oversees the production of Heroes of the Storm, working closely with developers, producers, discipline leads, and directors to help shape the game's overarching development.
Kaeo started at Blizzard Entertainment in 2001 as a quality assurance tester for Warcraft III: Reign of Chaos, contributing map design and voiceover work alongside his testing duties. He moved on from QA to tackling Blizzard's staffing needs, helping build out the World of Warcraft and Blizzard Cinematics teams. His success across a wide variety of different disciplines led Kaeo to land an associate producer role in creative development under Chris Metzen. From there, Kaeo then took his production experience and passion for RTS games into game development as game producer on StarCraft II: Wings of Liberty and senior game producer on StarCraft II: Heart of the Swarm.
Outside of work, Kaeo enjoys games, art, movies, cars, and visiting his home state of Hawaii with his wife and kids—including his daughter, who is not-so-coincidentally named Kerrigan.
References
Edit