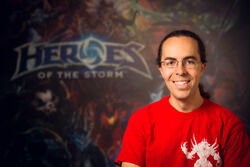 Title: Senior Technical Designer
Justin Klinchuch is one of the designers of Heroes of the Storm. He advocated the removal of the game's gold/item system, which was present in early builds.[1]
As a senior technical designer at Blizzard Entertainment, Justin Klinchuch leads the technical design efforts for Heroes of the Storm. While he still manages to get his hands dirty, he spends a good portion of his time mentoring the newer technical designers in order to most efficiently bring the vision for Heroes of the Storm to fruition. Justin remains heavily involved in shaping the core design and philosophy of the game.
Klinchuch joined Blizzard Entertainment in 2005 as part of the quality assurance team. There, he performed QA testing and engineering for World of Warcraft's The Burning Crusade and Wrath of the Lich King expansions. He then transitioned to the StarCraft II team, where he served as a QA specialist and technical designer. Justin would become the first scripter/implementer for the Heroes of the Storm team and now leads a small army of technical designers who work on the game full-time.
Justin teamed up with another technical designer on his team to create the Lost Vikings arcade cabinet in the Hyperion's cantina. He also enjoys making music and DJs in his free time.
He left Blizzard in January 2015 to work on an independent game[2].
"Please let Justin know"
Edit
On January 24th 2017, Justin Klinchuch became a widespread meme on the Heroes of the Storm subreddit, because some Debugging Code that read "XP Award Group was empty when Cannon Tower died. This is a problem, please let Justin know." made it to a live patch and was discovered by a player and posted on Reddit.[3]
References
Edit
↑ 2014-05-21, Blizzard set out to make a StarCraft mod, and instead reinvented gaming's most popular genre. Polygon, accessed on 2014-05-22
↑ 2017-01-25, Justin AMA Request, Reddit
↑ 2017-01-24, "You had one Job Justin", Reddit
Ad blocker interference detected!
Wikia is a free-to-use site that makes money from advertising. We have a modified experience for viewers using ad blockers

Wikia is not accessible if you've made further modifications. Remove the custom ad blocker rule(s) and the page will load as expected.