Horrify
(R)
Mana: 90
Cooldown: 80 seconds
After a short delay, deal 124.8 (+4% per level) damage and fear enemy Heroes in the area for 2 seconds.
Tier 4 (Hero Level 10)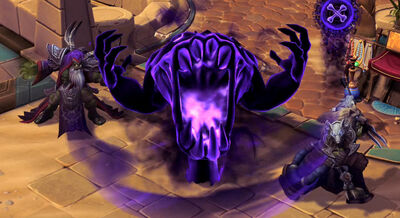 Patch changes
Edit
 (Patch August 9, 2016) Note: Horrify's Fear effect will now correctly be paused when enemies hit by the Ability enter Zeratul's Void Prison.; Heroes affected by Horrify will now properly run directly from the center of the cast into nearby Gates and Towers, rather than attempt to path around them.
 (Patch July 12, 2016) Note: Added.
Ad blocker interference detected!
Wikia is a free-to-use site that makes money from advertising. We have a modified experience for viewers using ad blockers

Wikia is not accessible if you've made further modifications. Remove the custom ad blocker rule(s) and the page will load as expected.