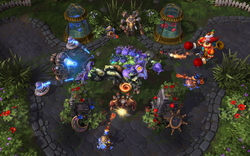 Heroes Brawl takes the current iteration of Heroes of the Storm and turns it on its head in a special mode that applies a different set of rules and conditions each week. Provided players participate in at least three matches per week they will be rewarded with portraits and up to 1,000 gold.
Length of play time will vary depending on the brawl, ranging anywhere from a quick four-minute match to almost 20 minutes.
AFK detection is present in Heroes Brawl. Players who become inactive during a Brawl will be disconnected from the match.
Brawl maps fall into one of three categories:
One-lane maps
Altered maps: These fall under "mutators," "standard battlegrounds with substantial modifiers."
Modified maps: These maps are variations of existing battlegrounds.
Patch changes

Edit
 (Patch November 15, 2016) Note: AFK Detection Added.
 (Patch October 25, 2016) Note: Fixed an issue causing an "Unmet Requirements" message to pop up when in a party queued for Heroes Brawl.; Removed an inaccurate line from the Punisher Arena's Info Panel at the queue screen.; Fixed an issue causing Heroes Brawl score screens to incorrectly display Hero level ups and gold grants when certain conditions were met.
 (Patch October 18, 2016) Note: Added.
Ad blocker interference detected!
Wikia is a free-to-use site that makes money from advertising. We have a modified experience for viewers using ad blockers

Wikia is not accessible if you've made further modifications. Remove the custom ad blocker rule(s) and the page will load as expected.