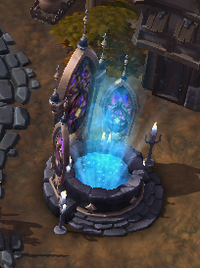 Healing fountains (a.k.a. healing wells) are found by each fort. When used, over 20 seconds they replenish 40% of the hero's maximum health and 30% of the hero's maximum mana (other resources are unaffected). It has a 120-second cooldown tracked separately for each hero. Heroes can't use an enemy's fountain.
Fort healing fountains have 1750 health, while Keep healing fountains have 2000 health. One quarter of this health serves as a shield, which starts to regenerate 8 seconds after it stops taking damage.
Destroying a healing fountain doesn't reward any experience.
Development
Edit
Healing pads existed in previous builds of the game.[1]
Patch changes
Edit
References
Edit
Ad blocker interference detected!
Wikia is a free-to-use site that makes money from advertising. We have a modified experience for viewers using ad blockers

Wikia is not accessible if you've made further modifications. Remove the custom ad blocker rule(s) and the page will load as expected.