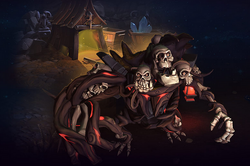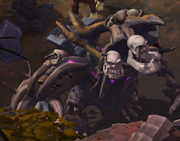 Grave golems are a type of minion found within mercenary camps. Grave golems serve as the bosses of various maps. Grave golems spawn in fixed positions in each lane, and switch lanes each time they are summoned.
Grave golems are summoned through the collection of skulls on the Haunted Mines battleground. Visual distinctions represent how many skulls have been used to summon the golem.[1]
These camps respawn at a rate of 180 seconds.
Basic attack: 140 (+4% per level)
Stomp: 150 (+4% per level)
Development
Edit
The grave golem originally possessed more heads, and had a patch of land on its back on which a tree grew from. This hindered visibility of the golem so the tree was removed.[2]
Patch changes
Edit
References
Edit
Ad blocker interference detected!
Wikia is a free-to-use site that makes money from advertising. We have a modified experience for viewers using ad blockers

Wikia is not accessible if you've made further modifications. Remove the custom ad blocker rule(s) and the page will load as expected.