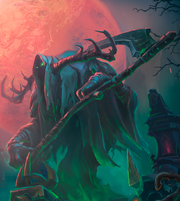 See also: Grave Keeper quotations
The Grave Keeper (a.k.a. the Necromancer) is the realm lord of the Haunted Mines.[1] At his behest, heroes venture into the Haunted Mines to retrieve skulls, and in exchange, he raises grave golems for them. The skulls themselves are apparently a source of profit for him.[2]
Currently, the Grave Keeper in conflict with the Raven Lord over ownership of the Towers of Doom, both hoping to annex it into their territories within the Nexus. Like his foe, the Grave Keeper summoned heroes to aid him in this endeavor.[3]
The Grave Keeper drove the Raven Lord out of the Haunted Mines, and after some "redecorating," re-opened them to heroes who wished to summon grave golems.[4]
References
Edit
Ad blocker interference detected!
Wikia is a free-to-use site that makes money from advertising. We have a modified experience for viewers using ad blockers

Wikia is not accessible if you've made further modifications. Remove the custom ad blocker rule(s) and the page will load as expected.