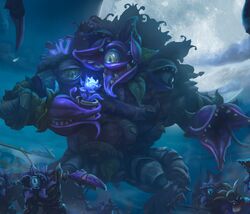 The Garden Terror is a summon in the Garden of Terror map. It is summoned on a patch of fertile soil after collecting 100 seeds, during which the player that moves onto the patch within their base becomes the Terror for a limited amount of time.[1] It will die if a player does not take control of the terror within a minute of it spawning.[2]
Description
Edit
The Garden Terror is a very powerful summon, and contrary to the Dragon Knight, has moderate damage but extremely high health. Controlling the Garden Terror will allow a player to easily soak up huge amounts of damage while being able to disable enemy forts with its abilities. Because of the Garden Terror's powerful abilities and skills, gathering enough seeds before the enemy team can is crucial. It is recommended to support the Garden Terror with powerful Assassin or Warrior heroes, as the Garden Terror only deals moderate damage compared to the Dragon Knight.
Abilities
Edit
| Name | Description |
| --- | --- |
| Queen's Curse | After a short delay, enemy heroes in the target area are turned into plant zombies and are Polymorphed for 5 seconds. |
| Overgrowth | Disables all enemy structures within a large area as long as the Overgrowth remains alive. Disables the enemy Core. Health increases the longer the game progresses. Bonus damage against structures is 200%. |
| Sprint | Gives the Garden Terror a temporary boost in movement speed. |
| Terror of the Garden | Reduces the duration of Blinds by 50%. |
Regeneration Globes do not heal Garden Terrors.

Instead, Regeneration Globe effects are applied directly to the Hero inside the Garden Terror.
Players within a Garden Terror can accumulate stacks for Talents such as Seasoned Marksman, Gathering Power, Regeneration Master, etc.

Basic attacks instantly kill minions.
Patch changes
Edit
References
Edit
Ad blocker interference detected!
Wikia is a free-to-use site that makes money from advertising. We have a modified experience for viewers using ad blockers

Wikia is not accessible if you've made further modifications. Remove the custom ad blocker rule(s) and the page will load as expected.