Feral Spirit
(W)
[Skillshot]
Mana: 60
Cooldown: 12 seconds
Unleash a Feral Spirit that deals 153 (+4% per level) damage to enemies in its path and Roots Heroes hit for 1 second. Each Hero hit increases the distance traveled by 25%.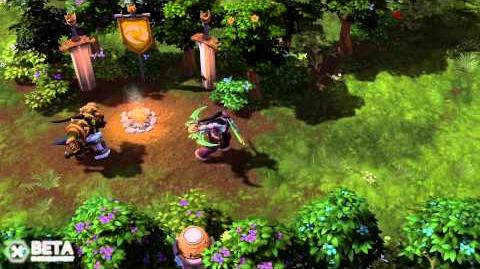 Patch changes
Edit
 (Patch June 28, 2017) Note: Percent Health damage dealt by Basic Attacks after casting Feral Spirit with the Alpha Wolf Talent now correctly count as Ability Damage.
 (Patch June 13, 2017) Note: No longer stops upon the first enemy hero hit; Feral Spirit travels 25% further with each enemy hero hit.
 (Patch February 14, 2017) Note: Fixed an issue in which Feral Spirit could fail to trigger Follow Through after earning Seasoned Marksman stacks.
Ad blocker interference detected!
Wikia is a free-to-use site that makes money from advertising. We have a modified experience for viewers using ad blockers

Wikia is not accessible if you've made further modifications. Remove the custom ad blocker rule(s) and the page will load as expected.