Evolve Monstrosity
(R)
[Heroic Ability]
Tier 4 (Hero Level 10)
Cooldown: 90 seconds
Turn an allied Minion or Locust into a Monstrosity. When enemy Minions near the Monstrosity die, it gains 5% Health and 5% Basic Attack damage, stacking up to 40 times. The Monstrosity takes 50% less damage from Minions and Structures.

Using Symbiote on the Monstrosity allows you to control it, in addition to Symbiote's normal benefits.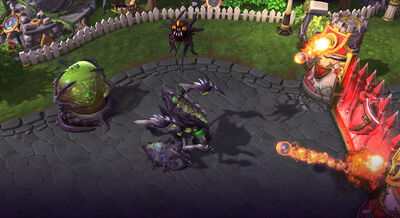 The health of the monstrosity is 1000 (+4% per level).
Patch changes
Edit