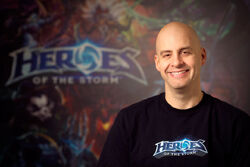 Dustin Browder was the game director of Heroes of the Storm.[1]
Browder began work at Blizzard Entertainment in 2005 as a senior designer. He headed up design for StarCraft II and contributed quests for World of Warcraft: The Burning Crusade. Prior to joining Blizzard Entertainment, he served as lead designer on several games, including Battle for Middle Earth, Command and Conquer: Generals, and Mechwarrior 2: Mercenaries. Even earlier, he wrote a number of supplements for pencil-and-paper games, and he still enjoys playing miniatures games like Warhammer 40,000 and role-playing games such as Dungeons & Dragons. He holds a Bachelor of Arts degree in English literature from the University of California, Los Angeles.[2]
In Heroes of the Storm, he plays/has played the Barbarian, Nova, Raynor, and Sgt. Hammer. As of January 2014, Hammer was his "go to" hero.[3] He left the development team in December, 2016, being moved to work on a new project within Blizzard.[4]
References
Edit
Ad blocker interference detected!
Wikia is a free-to-use site that makes money from advertising. We have a modified experience for viewers using ad blockers

Wikia is not accessible if you've made further modifications. Remove the custom ad blocker rule(s) and the page will load as expected.