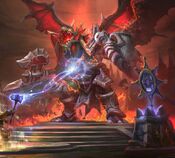 The Dragon Knight is an available summon in Dragon Shire. It can be awakened by a team possessing both sets of obelisks and channeling into the Dragon Altar. A hero can then become the Dragon Knight. The Dragon Knight form lasts for a couple of minutes and grants the hero a massive power boost. It cannot be targeted by allied talents or abilities.
The Dragon Knight deals double damage to minions and has a base health of 8350.
Abilities
Edit
| Name | Description |
| --- | --- |
| Flame Breath | Breathes fire towards the target area, burning enemies for 85 damage and leaves a patch of fire on the ground dealing damage over 2 seconds. |
| Savage Charge | Charge an enemy Hero to knock them back and deal 450 damage. |
| Trait: Rubble Maker | Doubles damage against sturctures. Reduces damage from structures by 60%. Stuns, slows, silences, polymorphs, and roots against you have 50% decreased durations. Reduces the duration of Blinds by 50%. The Dragon Knight explodes upon death, knocking back nearby enemies. |
See also: Dragon Knight quotations
Dragon Knights cannot be healed by Supports or Healing Fountains.
Dragon Knights are unstoppable (meaning they cannot be affected by any form of crowd control).
Dragon Knights are immune to Attack Speed slows applied by attacks from enemy Forts and Keeps.
Regeneration Globes do not heal Dragon Knights.
Basic attacks instantly kill minions.
Patch changes
Edit