Drag
(Q)
[Skillshot]
Mana: 75
Cooldown: 15 seconds
Lash out with your tongue, dealing 166.40 (+4% per level) damage to the first enemy hit, stunning and dragging them with you for 1.75 seconds.

If you are stunned or silenced while using Drag, the effect ends.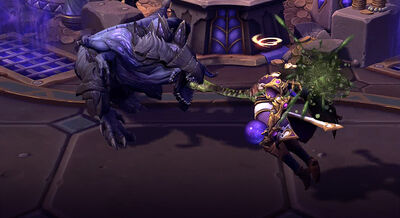 Patch changes
Edit
 (Patch July 12, 2016) Note: Drag will now properly interrupt Tychus if he is struck while attempting to cast Grenade.
Ad blocker interference detected!
Wikia is a free-to-use site that makes money from advertising. We have a modified experience for viewers using ad blockers

Wikia is not accessible if you've made further modifications. Remove the custom ad blocker rule(s) and the page will load as expected.