Disintegrate
[Heroic Ability]
Tier 4 (Hero Level 10)
Mana: 80
Cooldown: 30 seconds
Channel a powerful beam, dealing 462 (+5% per level) damage over 2.5 seconds to enemies while they are in it. The direction of the beam changes with your mouse cursor position.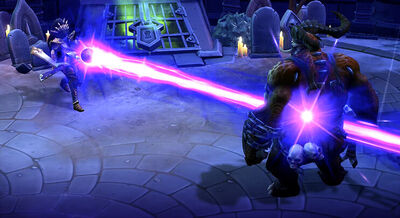 Patch changes
Edit
 (Patch January 24, 2017) Note: Casting Disintegrate a moment before Li-Ming would be hit by Abilities like Falstad's Gust of Wind will no longer cause a short delay before she is pushed.
 (Patch April 12, 2016) Note: Cooldown increased from 20 to 30 seconds.