Darkflight
(E)
[Human]
Mana: 10
Cooldown: 5 seconds
Shapeshift into a Worgen and leap at an enemy dealing 92 (+4% per level) damage.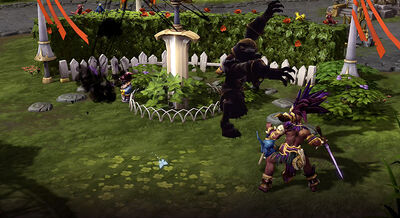 Patch changes
Edit
 (Patch August 9, 2016) Note: Will no longer appear to slide at the end of Darkflight if the target moves out of maximum range as Greymane begins to leap.
 (Patch July 27, 2016) Note: Fixed an issue that could cause opposing Greymanes to become stuck after simultaneously casting Darkflight on each other.; Will no longer become stuck if Darkflight is interrupted by Diablo's Shadow Charge or Stitches' Hook.
 (Patch January 27, 2016) Note: Cooldown reduced from 6 to 5 seconds.
Ad blocker interference detected!
Wikia is a free-to-use site that makes money from advertising. We have a modified experience for viewers using ad blockers

Wikia is not accessible if you've made further modifications. Remove the custom ad blocker rule(s) and the page will load as expected.