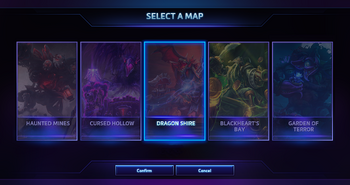 See also: Sandbox Custom Game
Custom games can be used to set up pre-arranged matches with and against other chosen players. In the lobby, after selecting a battleground, all players will be placed on a new lobby screen which will allow the lobby host to add and remove human or A.I. players, and organize observers and teams much more easily. Once the teams have been set up, the host can then hit the "start game" button to enter hero selection.[1]
There are four observer slots in the lobby, which allows for up to six observers total.
Including replay lobbies, this means 16 players total can use "Watch with Others" to view replays.
Patch changes
Edit
References
Edit
↑ 2014-12-02, HEROES TECHNICAL ALPHA PATCH NOTES -- DECEMBER 2, 2014. Blizzard Entertainment, accessed on 2014-12-03
Ad blocker interference detected!
Wikia is a free-to-use site that makes money from advertising. We have a modified experience for viewers using ad blockers

Wikia is not accessible if you've made further modifications. Remove the custom ad blocker rule(s) and the page will load as expected.