This is from the
Warcraft
universe.
"Hi! I'm Crabby! It looks like you're easter-egg hunting! Can I help?"
- Crabby on the menu screen(src)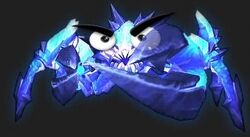 Crabby, the Dungeon Helper is a character from the Warcraft universe, incorporated into the Battle.net launcher of World of Warcraft.
Crabby can appear on the loading screen of Heroes of the Storm, in the form of a constellation. He asks the player if they want help with finding Easter eggs, mimicking his intro lines in World of Warcraft.
Crabby was created as part of the World of Warcraft 2011 April Fools. He is a parody of the infamous Clippy, the Microsoft Office Assistant.
Ad blocker interference detected!
Wikia is a free-to-use site that makes money from advertising. We have a modified experience for viewers using ad blockers

Wikia is not accessible if you've made further modifications. Remove the custom ad blocker rule(s) and the page will load as expected.