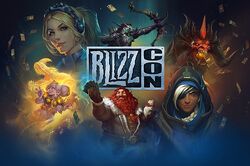 BlizzCon 2016 (a.k.a. BlizzCon X)[1] will be the tenth BlizzCon event. It will be held over November 4-5, 2016.
BlizzCon 2016 tickets will go on sale in two batches on Wednesday, April 20 at 7 p.m. PT and Saturday, April 23 at 10 a.m. PT through the online event ticketing service Universe, priced at $199 each (plus applicable taxes and fees). A pre-BlizzCon Benefit Dinner the evening of Thursday, November 3 in support of Children's Hospital of Orange County (CHOC). Tickets for this event go on sale Wednesday, April 27 at 7 p.m. PT, priced at $750 each, and attendance will be limited.
A virtual ticket can be purchased for the event. In-game bonuses will be given to those who purchase these tickets.[2]
A BlizzCon-themed stein and an ETC keychain will be available in the game's "goodie bag."[3] People who attend the event or purchase a virtual ticket will receive the Nexus Tiger mount.[1]
References
Edit
External Links
Edit
Ad blocker interference detected!
Wikia is a free-to-use site that makes money from advertising. We have a modified experience for viewers using ad blockers

Wikia is not accessible if you've made further modifications. Remove the custom ad blocker rule(s) and the page will load as expected.