Army Of The Dead
[Heroic Ability]
Mana: 100
Cooldown: 100 seconds
Summons Ghouls that last 15 seconds. Sacrifice Ghouls to heal for 277.68 (+4% per level) Health.
Tier 4 (Hero Level 10)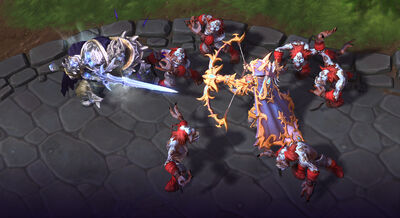 Ghoul health is 960 (+4% per level).
Patch changes

Edit
 (Patch January 24, 2017) Note: Army Of The Dead will no longer fail to summon Ghouls if it is cast in the same moment that Arthas is targeted by Auriel's Crystal Aegis.
 (Patch May 17, 2016) Note: Ghoul Health increased from 799 (+4% per level) to 960 (+4% per level).
Ad blocker interference detected!
Wikia is a free-to-use site that makes money from advertising. We have a modified experience for viewers using ad blockers

Wikia is not accessible if you've made further modifications. Remove the custom ad blocker rule(s) and the page will load as expected.